'Though an angel should write, / still 'tis devils must print.'

— Thomas Moore (1779–1852)
P22 TYPE SPECIMENS


BY RICHARD KEGLER
Joseph Blumenthal's Spiral Type
Joseph Blumenthal (1897–1990) was among the more notable American figures in twentieth-century printing and book history. His Spiral Press produced works from 1926 to 1971 for prominent writers such as Robert Frost and Pablo Neruda.
As a fine-press printer with exacting standards, Blumenthal required a typeface that reflected the quality of his press. In 1931 he closed the shop and took a sabbatical in Germany with the goal of designing a book typeface, then commissioning a punch cutter and foundry to cast it. The result was 1,000 pounds of 14 point Spiral Roman type, cast by the Bauer Foundry. The Spiral Type was Blumenthal's first and only venture into type design. It was optioned to Monotype and recut as Emerson in 1936.
Blumenthal melted his Spiral type in 1971 when he closed his shop for good. In 1939, he had given Victor Hammer about 200 pounds of the type when Hammer arrived at Wells College in Aurora, New York, as an Austrian exile. Hammer used the type, along with Emerson, as a house face at Wells College Press. Over time and several moves, the type became pied and destined for melting. Hammer's friend, Father Thomas J. Collar, took it upon himself to rescue and restore the pied type to galleys and cases. The surviving Spiral type remains at Wells College Press.
The sample text to the left is a specimen of Spiral set by Andrew Steeves during a visit to Wells College in 2015. The 14 point Spiral and Monotype Emerson types are shown for direct comparison of their minor diderences. One testament to Blumenthal's concern with careful type fitting is shown in his decision to create two lowercase r's of different widths. This allows subtle word spacing adjustments with Spiral by choosing the r that best justifies a line of type.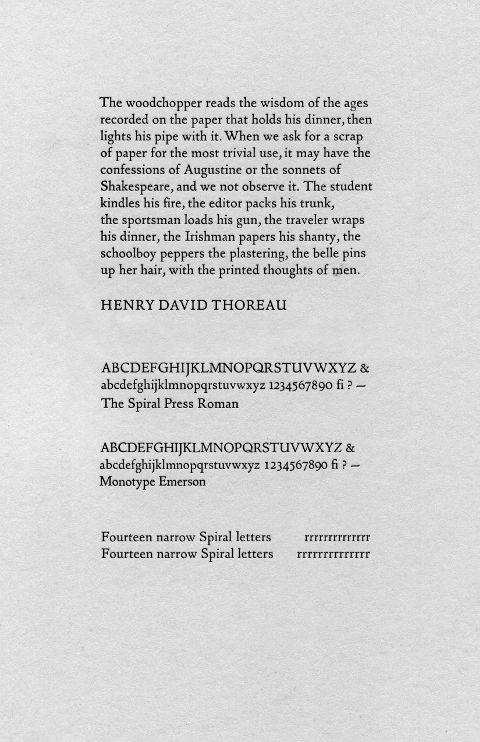 The Devil's Artisan would like to acknowledge the generous financial support of the Canada Council for the Arts and the Ontario Arts Council.